How the industry is faring with new RESPA forms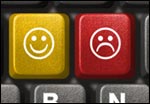 After eight months of using the new Good Faith Estimate and HUD-1 Settlement Statement forms, mortgage lenders, closers and the legal community are at a calmer place with implementation than they were on Jan. 1. But is it a perfect system yet? Two attorneys say no, with one saying that his firm is performing half of the closings per month than his company conducted before the forms were implemented.
You need to subscribe to RESPAnews.com to read the article. But from this blurb we see feedback from an attorney who says his firm has lost business since the RESPA implementation.
Well, I'm from the flip side of that comment. Our office has seen an increase in business from various sources since RESPA 2010 was launched. Why do I think that happened? Well, we embraced the concept early. Our staff was fully trained and prepared so that when lenders weren't sure, we were able to assist them. We see RESPA 2010 as a positive step forward and that attitude makes all the difference.
We hear from our lender friends that some title agencies and attorneys do nothing but grumble and make their already stressful jobs harder. So, cheer up my fellow title agents and attorneys. A smile and a kind "we're in this together and we'll make it work" attitude is a good marketing strategy. ;)